Calibrated Compositions

2010—2012
Solo Exhibition
Trinity Buoy Wharf, Docklands.
London, UK.
---
Calibrated Composition is a solo exhibition that took place within the Electricians Shop at Trinity Buoy Wharf. Compromised of several instalations all composed of several woven pieces formed out of disused plastics. Bubble wrap, boat rope and fishing wire all number among the original recycled materials. As such, Calibrated Composition explores the life cycle of plastic whilst simultaneously converting the refuse into perceptible and aesthetically pleasing panels. The process of up-cycling the discarded plastics is as much a part of the art as the end result, making the activity integral to the concept.
Whilst the works in this exhibition are complex and multifaceted, one of the most salient features is the relationship of the materials to nautical culture. This strong thematic relationship between the art and the sea symbolises a key environmental concern: The Great North Pacific Patch. This mass of rubbish, steadily supplied by oceanic currents, is located between the coasts of California and Japan, in the North pacific Gyre, weighs over 3.5 million tonnes and is on average 90ft deep. What is more, a huge proportion of the waste products consist of plastic, a largely non-biodegradable substance. The exhibition seeks to explicitly illuminate the devastating impact our reckless plastic consumption has on the environment: The unstable North Pacific Patch frequently gives way to streams of debris. This pollution enables the prosperity of invasive species, all the while releasing harmful toxins into the fragile marine eco system, endangering wildlife in the surrounding areas.
Drycleaners, 2010
Mixed Polymers
128 x 82.5 x 0.5 cm
Trail, 2010
Mixed Polymers
406 x 35 x 2.5 cm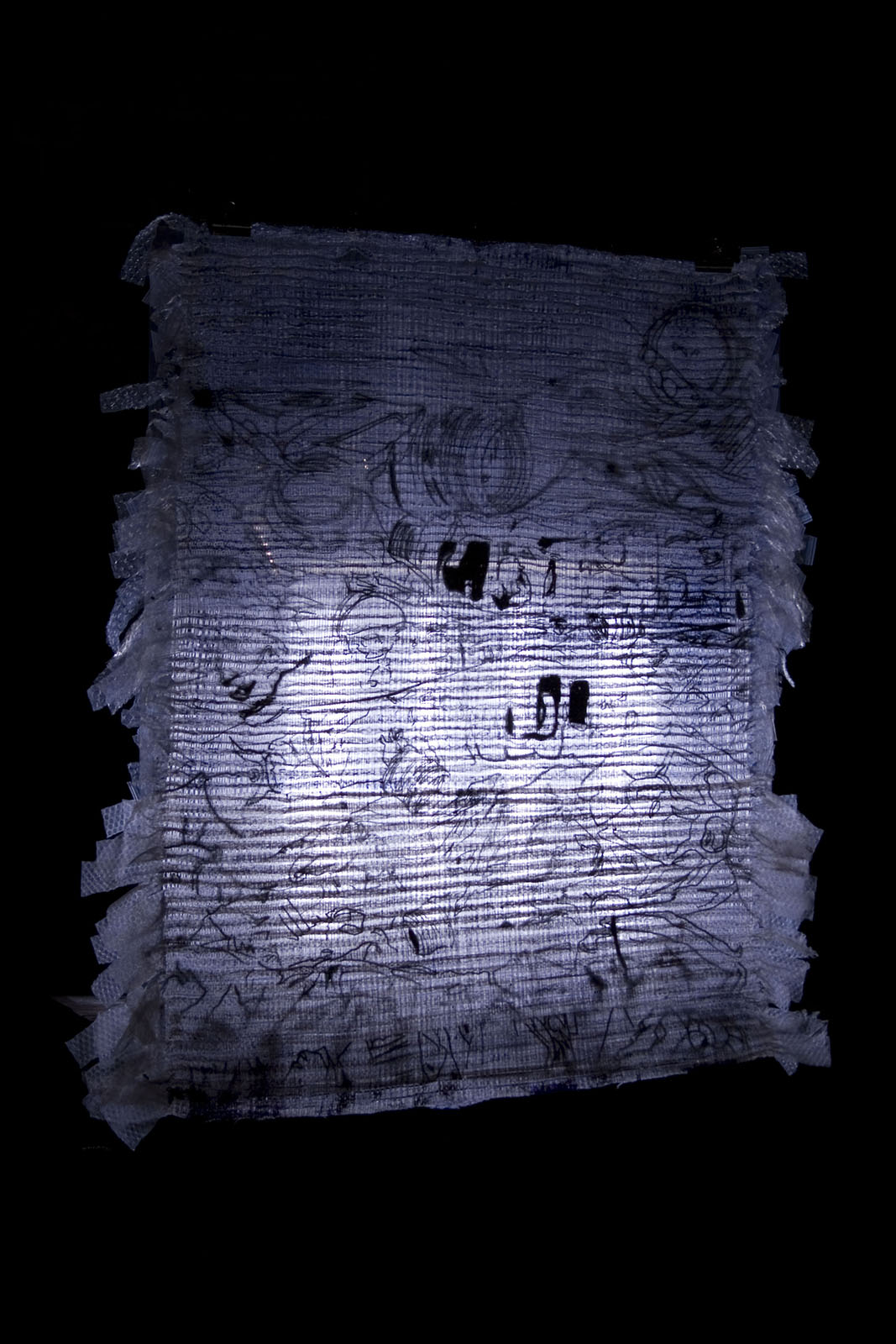 Plastic Bottles & Bubble Wrap, 2010
Mixed Polymers
109 x 104 x 0.5 cm
Photo credit: Garry Hunter